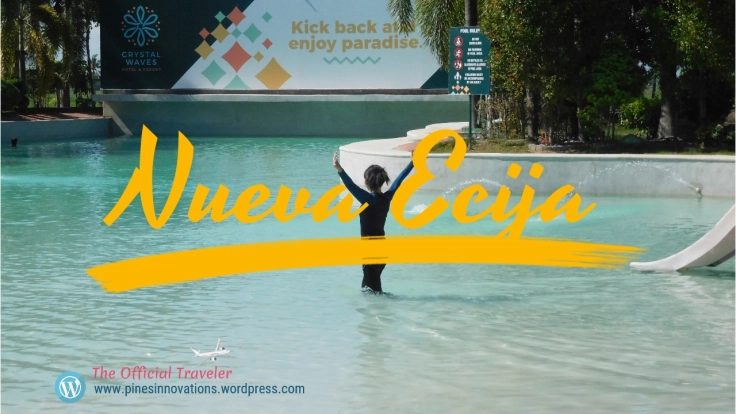 I will leave my dear friends pretty soon due to my study abroad so while I still have the time to spare, I wanted to spend some with them. Thanks to the Crystal Waves coupon I won in one raffle promo during the Lakbay Palay DS2017. I got 3 passes to Crystal Waves for free!! 🙂 So, let me share bits of information just in case some of you are interested to visit this resort for family, friends-get together, or teambuilding activities.
Crystal Waves Hotel and Resort is located at Dinarayat, Talavera, Nueva Ecija.
CONTACT DETAILS (as of June 2017)
(044) 803- 5090; 0932-867- 5855
DAYTOUR ADMISSION FEE:
Swimming Pool Hours – 8:00 AM to 10:00 PM
⦁ Wave Pool with Jacuzzi (this is according to schedule e.g. every hour)
⦁ Giant Water Racing Slide (50 feet high tower with almost 200 feet slide)
⦁ Mickey Mouse inspired Olympic Size Swimming Pool
⦁ Kiddie Pool with Aqua Play Area
⦁ Dahlia (10-15pax) Php600.00
⦁ Waling-waling (10-15pax) Php650.00
⦁ Aster Cottage (15-20pax) Php700.00
⦁ Gumamela (20-15pax) Php800.00
ADVENTURE CAMP:
⦁ Zipline Superman Adventure Php200.00
⦁ Zipline Professor X Adventure Php150.00
⦁ Wall climbing Spiderman Adventure Php200.00
⦁ Rappelling Batman Adventure Php200.00
BONIFACIO ROOM (good for 2pax) Php1,500.00
RIZAL ROOM (good for 2pax) Php3,000.00
AGUINALDO ROOM (good for 4pax) Php3,800.00
KATIPUNAN DORMITORY (good for 20pax) Php12,000.00
*Room rate includes complimentary breakfast
*Check-out time – 12:00 NN
*Additional Php700 per head for extra adults
*Prices are subject to change without prior notice
Videoke for Rent: Php700.00
⦁ Proper Swimming Attire is required.
⦁ Male: Swimming trunks;
Female: Swimwear or Swimsuit
⦁ Colored shorts, maong shorts with zipper and other metal accessories are strictly prohibited
⦁ Food and drinks are not allowed near the pool area
⦁ Bottled drinks & hard drinks are strictly prohibited
⦁ Please refrain from bringing any of the following:
*Fragile utensils (plates, water glasses, condimental bottles)
*Deadly weapons (Knives, ice picks, etc.) prohibited.
How To Get There:
From Manila, ride a bus going to San Jose, Nueva Ecija. Drop off  at Dinarayat, Talavera, Nueva Ecija (along the national highway). 
👣The Official Traveler